Secure your load with our essential cargo control products designed to help you get from point A to B safely.
Roll-Off Tarp System
Waste storage, transportation, & recycling presents the danger of spillage & environmental
degradation which can cause companies to spend a lot of money in damages caused by waste
spillage and improper storage.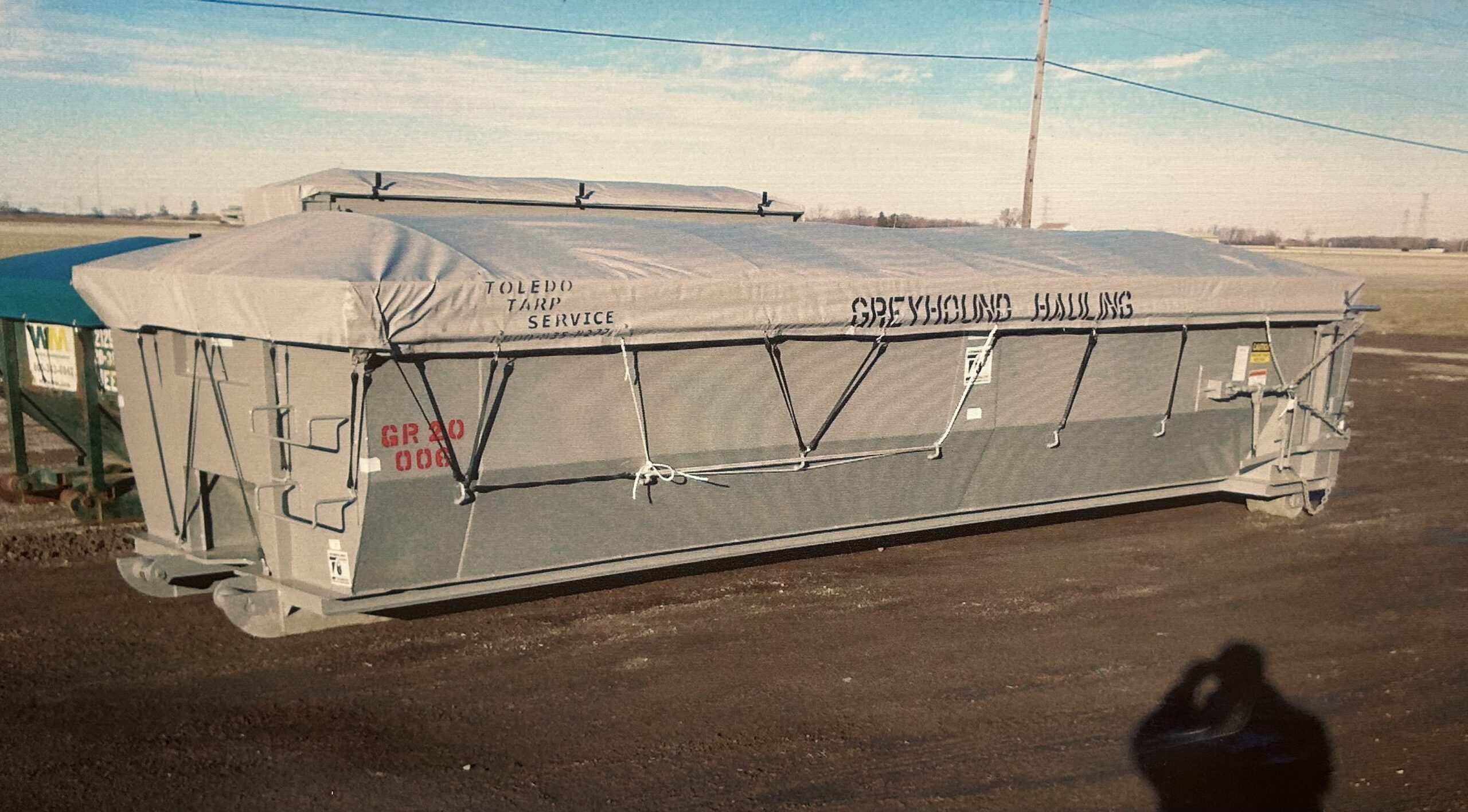 Why Choose Our Systems?
Our roll-off systems are designed to offer maximum efficiency and ease of use. The easy to install roll-off system can be operated by a single individual, hence reducing operating costs. Our systems also offer tight protection helping you maintain environmentally responsible operations.
We understand that each person has different needs when it comes to tarping. Unlike most tarping system providers, we are distinguished by our inclusivity approach. We listen to both small scale and large scale clients. The good news is that we offer a full system at an all-inclusive price. Our one-time price of just $749 is inclusive of all the necessary accessories. Give us a call for installation pricing.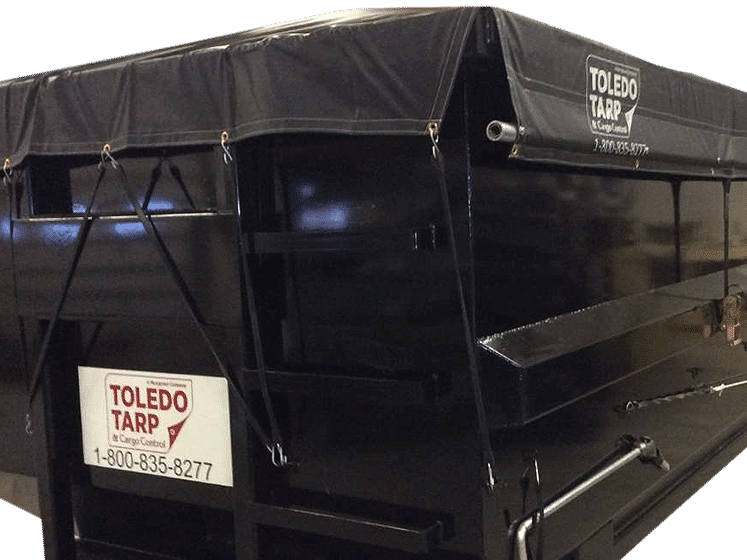 Special Features
Although we specialize in the manufacture of tarping systems for waste management companies, we know that there are other users out there who need our systems. 70 years of experience has taught us that the people who need our services are spread across many different areas. Therefore, we develop custom tarping systems for other users including farmers and individual business owners who may wish to have private waste management systems. Our custom tarping systems aim at providing environmentally responsible storage. They come equipped with a hand crank for easy opening and straps for security purposes. Each tarping system comes with straps and other necessary hardware for easy installation.
We differ from all our competitors because we are willing to listen to your needs. We want to make your job as easy as possible while at the same time providing durable environmental conservation solutions.
LOK-N-ROLL Tarping Systems
Lok-N-Roll Tarping systems are perfect for Grain Trucks and Dump Trucks. Specifically because it
protects your load from the elements by keeping it fully covered and protected from the rain. Our systems
let you roll your tarp standing safely on the ground so that you can avoid climbing.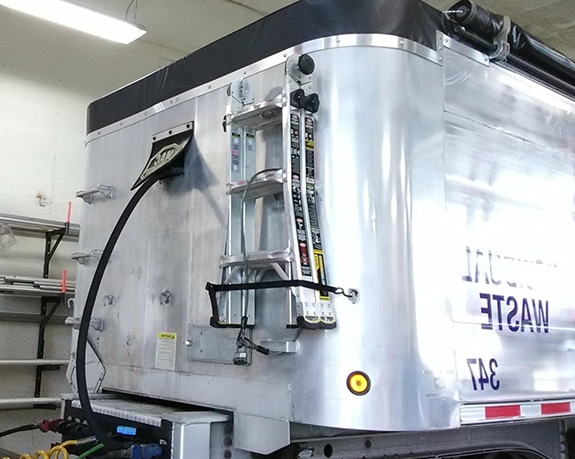 70
Years
Experience
Our System Includes
A 22 oz. premium heavy-duty vinyl tarp
1-1/4" schedule 40 steel pipe slides into a reinforced sleeve
Heavy-duty crank (The crank locks onto side of trailer)
Bolt pipe on passenger side to secure tarp to trailer
Roll stops to "catch" the tarp when rolled
7/8" solid aluminum bows with pockets
End caps
Front return and retainers
Lok tracks
If you have questions or would like to order multiple units call 1-800-835-8277.
LOK-N-ROLL 102 X 12 LOK-N-ROLL 102 X 32
LOK-N-ROLL 102 X 14 LOK-N-ROLL 102 X 34
LOK-N-ROLL 102 X 16 LOK-N-ROLL 102 X 36
LOK-N-ROLL 102 X 20 LOK-N-ROLL 102 X 38
LOK-N-ROLL 102 X 22 LOK-N-ROLL 102 X 40
LOK-N-ROLL 102 X 24 LOK-N-ROLL 102 X 42
LOK-N-ROLL 102 X 26 LOK-N-ROLL 102 X 45
LOK-N-ROLL 102 X 28 LOK-N-ROLL 102 X 48
LOK-N-ROLL 102 X 30
LOK-N-ROLL 96 X 12 LOK-N-ROLL 96 X 32
LOK-N-ROLL 96 X 14 LOK-N-ROLL 96 X 34
LOK-N-ROLL 96 X 16 LOK-N-ROLL 96 X 36
LOK-N-ROLL 96 X 20 LOK-N-ROLL 96 X 38
LOK-N-ROLL 96 X 22 LOK-N-ROLL 96 X 40
LOK-N-ROLL 96 X 24 LOK-N-ROLL 96 X 45
LOK-N-ROLL 96 X 26 LOK-N-ROLL 96 X 48
LOK-N-ROLL 96 X 28 Custom Sizes Available
LOK-N-ROLL 96 X 30
Save Money With Our Imported Ready-Made Lumber, Steel, and Roll-Off Tarps.
We've imported many of our most frequently ordered custom tarps to save you time and money. Imported tarps are a great inexpensive options for your tarping needs. Don't have time to wait for a repair? We can get you back on the road with a brand new tarp in a fraction of the time and at a surprisingly low cost.
Now available: Our NEW light weight tarp is made of 14oz vinyl. This is the perfect tarp for flatbed trucks and comes at a affordable price.
All of our Ready-Made tarps are of the highest quality and include brass grommets, D-ring pads with chrome D-rings and heat-sealed seams for extra longevity. All our tarps have 15 D-rings per row. Our 16 and 20 ft tarps feature two rows of D-rings per side, while the 24ft tarp has three rows per side.
Select from the list below to add to your shopping cart. We will ship them anywhere but invite you to stop in the next time your route takes you near Exit 5 on the Ohio Turnpike.
Easy Cover Flip Tarp System
Our flip tarp systems are extremely versatile. It is the perfect compliment for your truck or trailer.
They can be mounted onto truck bodies that are up to 48 feet long. These systems are available in
both manual or fully automatic.
Heavy-duty black mesh tarp
Manual, ground-operated roller system or fully automatic drive option for easy use
Aluminum Arms
Unbreakable with normal use
Aluminum Wind Deflector
Operates from the ground
Save both time and money with our easy to use Flip Tarp System. Cover and uncover your load within seconds.
Why you should repair your pool cover?
When your pool cover has holes in it, it makes your pool susceptible to all the elements. Even smalls hole
can start to cause issues with your pool.
Here are 5 reasons on why you should have a hole free pool cover:
It helps conserves water and slows down evaporation which helps you save on the water bill.
It helps retain heat which makes your swimming experiences much more enjoyable.
Cuts down on pool chemicals which will also save you money
Helps keeps out leaves, dirt, and debris which will help cut down on maintenance time
If your cover has holes, it can also cause your cover to not be safe. Holes in the cover allow for it to sink easier.
If your cover received holes during the winter months, don't waste your money on a brand-new cover. Save money and have it repaired.